Terminology
(PTGD) = Pull-Type Tandem Axle, Ground Wheel Drive (PTPG) = Pull-Type Tandem Axle, Partial Ground Wheel Driven
(4520) = 45 Degree Sides, 20" Conveyor
(L-304) 304 Stainless, (L-409) 409 Stainless, (L-C) Carbon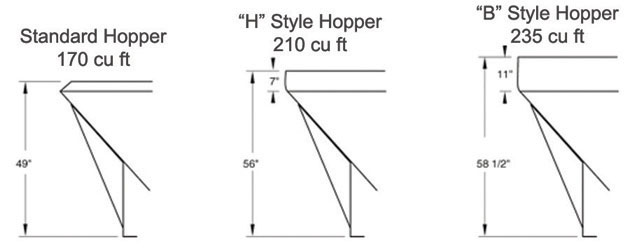 Body Type Options
Option 2 H Body 6" Higher Capacity, 21 cu ft / lin ft struck, 56" high
Option 3 B Body 11" Higher Body 23.5 cu ft / lin ft struck, 58.5" high
Model Specs
** GROUND WHEEL DRIVE: External ground wheel driven by traction against the tire. As the spreader is pulled, the ground wheel transfers power from the rotating tires to the conveyor.
** SUSPENSION AND WHEELS: Standard suspension includes 7,000 lb tandem axles with 12.5 X 15 Implement Tires with 6-Bolt Hub. Other suspension and tire options are available.
** State of the Art - ELECTROSTATIC PAINT: Carbon unit is fully painted with two component acrylic urethane that yields superior gloss, color retention and UV stability. Stainless unit includes all mild carbon steel parts painted. Salford Red is our standard color. If requested, color options include red, blue, yellow, black or green. Some custom colors are available.
** CAPACITY: 210 cubic feet struck on "H" body; 235 cubic feet struck on "B" body.
** CONVEYOR: 16" wide, 304 Stainless Steel Mesh Chain Conveyor with two speeds of "Low" and "High" Application Rates. Ground Wheel drive is standard with other power options available. Other chain options are also available.
** SPINNERS: Twin 24" diameter "dished" Spinners that are driven by the Power Take Off. (540 or 1,000 RPM) Each spinner has six blades to ensure a uniform spread pattern.
Ordering Specify 540 RPM or 1000 RPM tractor PTO speed. Detail any optional equipment desired and prices.
State Paint color desired.
Delivery Prices are F.O.B. at our facility located in Cornelia, GA unless otherwise noted on a special quotation. If requested, delivery will be arranged to customer's location. Freight charges will be determined by number of units and mileage.